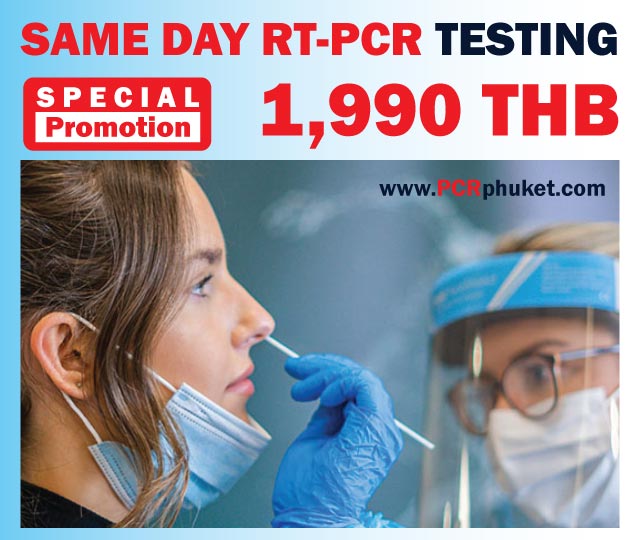 Promotion Same Day RT-PCR Testing
Price 1,990฿
Swab DURING THE DAY, GET RESULT at NIGHT Every day.
- RESULT with in 8 P.M. Everyday
- Suitable for people who have flights at 2 a.m onwards. If your flight is before 2 a.m we advise you to choose Urgent RT-PCR Only.
How to request for SAME DAY COVID-19 RT-PCR Testing (Result within 8 p.m)
1) SAME DAY Real time RT-PCR Testing
- Samples will be collected from nasal and throat.
- The result and medical certificate will be ready within 8-12 hours after we collect the specimen or within 8 P.M. EVERY DAY, both in hard copy and in your email.
- The COVID-19 test report and medical certificate will be issued in English. - The result and medical certificate will include all these information; your name, date of birth, nationality, passport number, testing method and test result. It will also state whether you have any COVID-19 related symptoms or not.
- The cost for this test is 1,990 THB
- If you need a Fit to Fly medical certificate, add 100 baht.
2) We will perform specimen collection (swab) every day, during these times only.
- We will do Swab during the day - every day 7:30 a.m. – 12:00 p.m. ONLY!!! for results within 8 p.m. daily.
- Repeat, for SAME DAY, you must come to swab during this time only.
- You will pay on the day you come to the clinic